TIPS FOR TELETHERAPY
And so... our teletherapy sessions will live on! For another four more weeks... till 1 June... together with the extension of our Circuit Breaker.
Since we suspended all face-to-face sessions on 8 April, we have been providing teletherapy*. Despite this being a fairly new area for us, it was not difficult to pick up; there are plenty of resources online such as suggested teletherapy platforms and therapy resources. However, I wish someone has given me the following five tips!
# Tip 1: Do NOT leave food cooking in your rice cooker just before lunch break!
If your teletherapy session is at 11 am, just before lunch, do NOT put anything to cook in the rice cooker, thinking that the food will be ready right when your session is over. The aroma of the food can be a huge distraction!
All-in-a-pot mushroom chicken rice! Smells sooooo good! (Yes, surprise! HT can cook... a little.)
# Tip 2: Do NOT leave your clothes out to dry during your session!
After doing your laundry, you see that the sun is shining bright and the wind is blowing like there is no tomorrow. You will be tempted to leave your laundry out while you have your session. You have forgotten that you live in Singapore, where thunderstorms can come anytime and within a few minutes. It will be totally embarrassing when you have to pause a session halfway and say "Sorry please wait! I need to bring in the clothes. Looks like it is going to rain." And if you have narrowly escaped the rain once, do NOT push your luck the second time. You will be too embarrassed to repeat the story of 'I need to bring in the clothes.'; you will just have to leave the clothes out and let them receive the 'showers of blessings' from the skies.


# Tip 3: Do NOT wear the same top which you have just washed, dried and taken off the clothes rack!
Now that you are working from home, you do not need to change too many sets of work clothes. You wear one, wash it, dry it, take it off the rack and wear it again (save the hassle of folding an extra piece of clothing, right?). You have been doing #stayathome for a while. You think nobody will notice what you wear. You think the video quality of Skype/Zoom/Facetime/GoogleMeet/Whatsapp is poor... sooooo poor that no one can see what you wear on the other side. Wrong! The parents and the kiddos can see what you wear, and they will ask "Eh! Why you wear the same as the last session?" Haven't they heard of Mark Zuckerberg, Barrack Obama and Steve Job's wardrobe??
#howsuccessfulpeopledress #savingmentalenergy
Source: https://thetinylife.com/video-tour-of-my-tiny-house-clothes-closet/


# Tip 4: Do NOT leave your washing machine on while you are in a session!
You look at the sky. The sun is bigger than your face, hotter than Summer's. You think it is a good time to do your laundry. You throw a full load into the washing machine... just. before. your. teletherapy. session. As it comes to the spinning cycle, your kiddo and the parents raise their eyebrows and ask "What's that sound?" Yes, they can hear it loud and clear. Yes, it is distracting. And yes, it is totally embarrassing.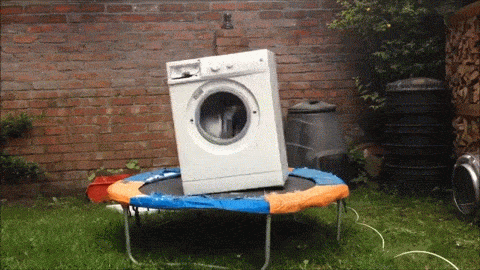 Source: https://boingboing.net/2016/01/19/heres-a-video-of-a-washing-m.html

# Tip 5: Do NOT plan the sessions for the kids!
Stressed, stressed, stressed! Mirror, mirror on the wall, who is the most stressed of us all? You are right! Our new-born 'therapists' - the mummies and daddies. They may have been sitting in our face-to-face sessions everytime, but when it is their turn to take charge... Poof! Everything which they have been taught goes out of the window. As such, keep the mummies and daddies in mind when planning your activities; plan activities which the parents can carry out confidently. The dysregulation of the parents for sure do not co-regulate our kiddos. And, and, and, never forget to give the parents their fair share of verbal praises and high-fives for doing a good job.
Source: https://aparentingproduction.com/2017/07/its-no-joke-parenting-is-hard.html
This is an exceptional time for all of us. Everyone is trying their best. Keep calm and CB on!
#COVID19 #circuitbreaker #stayathome #SGUnited #stayhomewithme #stayhomeforsg #teletherapy
*Note: Based on research, teletherapy is not suitable for all children. Most teletherapy sessions are conducted as parental consultation.